Toronto International Film Festival: An insider's guide to babe magnets and albino alligators
Colin Firth was in town to promote his new film 'The King's Speech,' while Werner Herzog intoned about albino alligators in his 3-D film 'Cave of Forgotten Dreams.'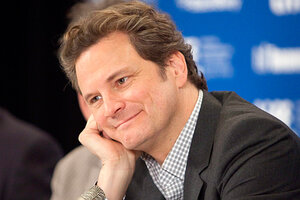 Fred Thornhill/Reuters
Where else but in Canada would a world-class film festival feature a hockey musical for its opening night gala?
The enjoyably clunky "Score" was, however, something of a red herring for the Toronto International Film Festival, which screens approximately 300 movies in 11 days and previews everything from Hollywood Oscar bait to the Finnish-English-Russian-Swedish entry, "Laplander's Odyssey."
"Rainer's Odyssey," as I am tempted to call my cinema sojourn in the Great White North, has taken in 20 of those 300 movies thus far – the festival wraps this weekend – and encompassed manifold meet-and-greets. Racing up and down the long avenues en route to innumerable screenings, I have become an adept practitioner of parkour.
What you see as you whiz by is sometimes as entertaining as the films themselves. Is that Martin Sheen on a picket line of disgruntled hotel workers? (Yes.) Is the geeky guy encased in his entourage Bill Gates? (Yes.) Is that mega-bearded dude really Joaquin Phoenix? (Maybe not. A press release from a company called Nuclear Lounge Media stated that "Fans are being tricked and disillusioned by a fraud who arrives by limousine and is accompanied by a massive entourage of security and scantily clad groupies.")
---
Follow Stories Like This
Get the Monitor stories you care about delivered to your inbox.