Inside Job: movie review
Matt Damon narrates 'Inside Job,' a meticulous exploration of what led to the crash of 2008.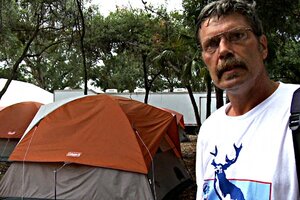 Sony Pictures Classics/AP
There have been plenty of books, articles, and movies about the 2007-08 financial meltdown and what led up to it, but if you're looking for a first-rate all-in-one overview, it doesn't get much better than Charles Ferguson's "Inside Job."
With scrupulous fairness, Ferguson meticulously lays out for us the whole sordid mess: the deregulation of the financial-services industry that began in the '80s under President Reagan, the derivatives, insurance swaps, real-estate bubbles, subprime lending scams, institutions like A.I.G., Citigroup, Goldman Sachs – it's all here.
Many heavy-duty players from administrations past and present, including Alan Greenspan, Lawrence Summers, Henry Paulson, and Ben Bernanke chose not to be interviewed for the film (which is narrated by Matt Damon). Those who were, like Harvard's Martin Feldstein and Glenn Hubbard, former economic adviser to George W. Bush and now dean of Columbia University Business School, probably wish they hadn't. Their evasions are mind-boggling.
---