'Megamind' starring Will Ferrell and Brad Pitt: movie review
Animated comedy 'Megamind' pulls through on its voice casting with Will Ferrell as the supervillain.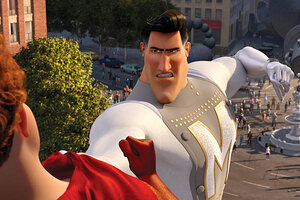 DreamWorks Animation/Paramount Pictures/AP
The 3-D animated comedy "Megamind," which features a bald and bluish bad guy (voiced by Will Ferrell), reminded me a lot of "Despicable Me," which featured a bald and whitish bad guy (voiced by Steve Carell). Maybe there should be a moratorium on animated movies about bald bad guys.
Or maybe there should just be a moratorium on 3-D already. It's not that "Megamind," which is about battling superbaddies and superheroes, is all that terrible. No doubt some of it is charming enough to induce giggles in its preteen target audience. But Pixar has set an awfully high bar for this sort of thing ("The Incredibles"). What's needed is a narrative invention to match the technical invention. Grade: B- (Rated PG for action and some language.)
More Monitor movie reviews:
---
Follow Stories Like This
Get the Monitor stories you care about delivered to your inbox.