For Colored Girls: movie review
Ntozake Shange's award-winning play 'For Colored girls' comes to the screen in a lumpy gumbo of high drama and low melodrama.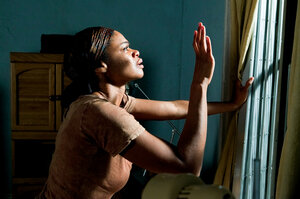 Quantrelle Colbert/Lionsgate
Tyler Perry, the most commercially successful African-American filmmaker ("Diary of a Mad Black Woman," "Madea Goes to Jail"), has been criticized, mostly by white critics, for promoting howlingly over-the-top racial stereotypes.
For his new film, he has, improbably, adapted Ntozake Shange's 1975 stage show, "For Colored Girls Who Have Considered Suicide When the Rainbow is Enuf" – shortened here into the more marquee-friendly "For Colored Girls."
Like "Precious," it centers on the rage and sorrows of black women and, also like that film, it's a lumpy gumbo of high drama and low melodrama.
Shange's play, a feminist anthem, is a series of linked monologues featuring seven African-American dancers, each identified only by the color of her garb. In the movie, Perry, who adapted the play in addition to directing, provides an overarching narrative to link the women, who, with one exception, now all occupy a Harlem tenement.
---