'Unstoppable' stars Denzel Washington and a train: movie review
A classic runaway train story, 'Unstoppable' has great energy and rumbly action with Denzel Washington as a railroad hero.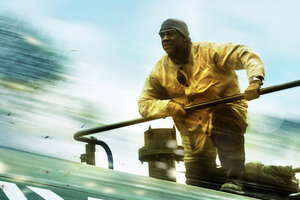 Robert Zuckerman/AP Photo/20th Century Fox
If you are a filmmaker, a movie about a runaway train must be an easy sell. Whatever human drama you try to pump into the plotline, whatever grand statement you are attempting to make about the state of the Union, the fact remains – a runaway train is a runaway train.
Of course, not all runaway train (or bus or subway car) movies are created equal. The best one was probably "Runaway Train," starring Jon Voight and Eric Roberts. (It should have been called "Runaway Performance.") The first "Speed" was pretty good. One of the lesser entries was Tony Scott's recent remake of "The Taking of Pelham 123." Still feeling the need for speed, Scott is back, with the aptly named and much improved "Unstoppable."
Scott isn't exactly Ingmar Bergman when it comes to delineating interpersonal relationships, and the dialogue from writer Mark Bomback sounds as if it was devised by a computer program for beginning screenwriters. No matter. The real star here is the big, unmanned freight train sparking through Pennsylvania at 70 m.p.h. while carrying hazardous cargo. Best of all, the train doesn't have any dialogue.
---