The Next Three Days: movie review
Russell Crowe stars in this implausible thriller, 'The Next Three Days,' about a college professor whose wife is wrongly jailed for murder and his plan to spring her.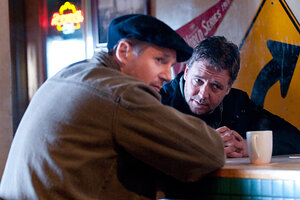 Phil Caruso/Lionsgate/AP
With most movie thrillers, implausibility comes with the territory. "The Next Three Days" takes that territory into uncharted terrain. Suspension of disbelief rapidly gives way to "Oh, puhleeze."
Russell Crowe, in one of his wily, sodden renditions, plays John Brennan, a Pittsburgh literature professor whose wife, Lara (Elizabeth Banks), shortly after the film's halcyon opening, is imprisoned for supposedly killing her boss. With a young son to take care of, John spends the next three years trying to prove Lara's innocence only to realize that the chances of reopening her case are nil. So John does what any good husband would do: He decides to spring her from prison.
This isn't a bad premise for a thriller, and it even has a psychological angle that's potentially intriguing – in trying to rescue his wife, John transforms himself into the sort of cold-blooded avenger she could never love. (The source material is a 2008 cult French thriller, "Anything For Her," that ran a full half hour less than this film's unnecessarily long 133 minutes.)
---