Anne Hathaway and Jake Gyllenhaal star in 'Love & Other Drugs': movie review
Anne Hathaway and Jake Gyllenhaal are the main draws in 'Love & Other Drugs,' a weepie that wastes an opportunity to look at medical malfeasance.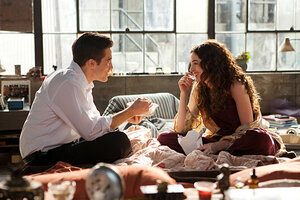 David James/20th Century Fox/AP
As "Love & Other Drugs" demonstrates, the trouble with movies that try to be all things to all people is that they end up being not altogether anything for anybody.
Set in 1996, it's a lumpy grab bag of comedy and tragedy, of spirits high and low, with more than a modicum of sex. The almost retro photogenic allure of stars Jake Gyllenhaal and Anne Hathaway is the real subject (and drawing power) of the movie.
On the plus side, both actors, particularly Gyllenhaal, are more unbound (no pun intended) than we've seen them before. He plays Jamie Randall, a hot-shot Pfizer pharmaceutical rep whose rampant womanizing comes to a screeching halt when he encounters Hathaway's Maggie Murdock, an artist who has early onset Parkinson's disease. (They meet when he sneaks a peek at her breast during a medical exam.)
Maggie turns out to be a female version of the presmitten Jamie – she wants sex with no attachments. Inevitably, she becomes attached. We're supposed to think she's been holding out because, given her prognosis, she doesn't want to fall in love. But Maggie, to Hathaway's credit, looks like she was born nobody's fool.
---