The King's Speech: movie review
Colin Firth and Geoffrey Rush, as prince and speech therapist, are marvelous in 'The King's Speech,' a moving and remarkable story of friendship and triumph.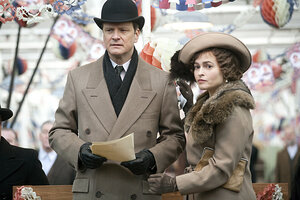 Laurie Sparham/The Weinstein Company/AP
"The King's Speech" is a remarkable movie about a remarkable friendship. It honors the audience's intelligence, which makes it a double rarity.
The friendship that painstakingly evolves is between Prince Albert, Duke of York (Colin Firth) and Lionel Logue (Geoffrey Rush), a frustrated Austalian actor turned highly unorthodox speech therapist. Albert, who has a dreadful stammer, has failed all previous medical interventions and vows never to try another.
Only the ministrations of his wife, Elizabeth, (a marvelous Helena Bonham Carter) bring him to Lionel, who, believing emotional intimacy is curative, insists on addressing the rankled Prince as "Bertie," the family nickname. "My game, my turf, my rules," he states flatly.
Among many other good things, "The King's Speech," directed by Tom Hooper (HBO's "John Adams") and written by David Seidler, is a meditation on a transitional time when royalty was expected to speak to the nation and not just pose commandingly before it.
---