Natalie Portman, a deeply dark 'Black Swan': movie review
Natalie Portman stars in a ballet film that's a 'willfully deranged quasi-horrorfest.'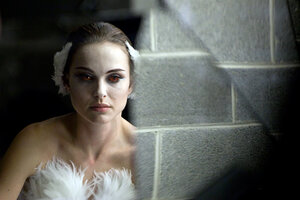 Niko Tavernise/Fox Searchlight/AP
"Black Swan" is a love-it-or-hate-it movie. Put me in the (sort of) hate-it column. My slight qualification here is because Darren Aronofsky's movie starring Natalie Portman as an increasingly unhinged ballerina gets points for being unlike anything else that's out there.
But being different isn't the same thing as being good. Watching this willfully deranged quasi-horrorfest, I would gratefully have chucked it all for a revival of "The Red Shoes," which was also pretty flagrant, though less deranged.
The Powell-Pressburger "Red Shoes" (1948) inspired an entire generation of girls to become ballerinas. "Black Swan" is likely to have the opposite effect. Scrape off the film's heebie-jeebie folderol and you're left with this: Become a dancer, go mad.
Portman's Nina, a virginal young thing with a benevolent-despot stage mom (Barbara Hershey) and a mania for perfection, lands the role of the Swan Queen in an upcoming, daringly "revisionist" (i.e., sexy) production of "Swan Lake." The problem is, Nina must also dance the ballet's bewitching Black Swan.
Because the stud-Svengali artistic director Thomas Leroy (Vincent Cassel) is skeptical that Nina can make it over to the dark side, he brings in a rival dancer, the sexed-up Lily (Mila Kunis), to act as both goad and back-up. (She also becomes Nina's fantasy lover, or maybe it's just another one of those now-you-see-it-now-you-don't dream sequences.)
---