The Illusionist: movie review
A rich, moving, animated film, 'The Illusionist' draws from a script by Jacques Tati and has a haunting Chaplinesque feel. Not to be missed.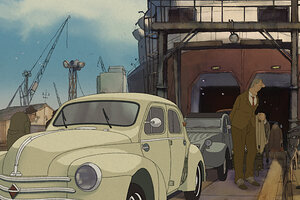 Newscom/File
Sylvain Chomet's animated feature "The Illusionist" is a breathtakingly beautiful achievement in every way. The 2-D graphics seem to beckon from an earlier, less complicated time when animation had a hand-drawn loveliness and simple stories contained complex emotion.
The history of "The Illusionist" is almost as fascinating as the film itself. In the late 1950s, the late great French auteur Jacques Tati, beloved as the gangly, pipe-puffing Monsieur Hulot in such films as "Mon Oncle" and "Play Time," wrote an extended treatment for a movie about an aging, small-time magician and then, for reasons that remain unclear, shelved it.
The script reverted to Tati's daughter Sophie Tatischeff (the family's actual surname), who admired Chomet's preliminary sketches for what became the marvelous "The Triplets of Belleville" and surmised that perhaps her father's script, redone as animation, could be realized after all.
Related: Ten best movies of 2010
She died a few months after passing the script on to Chomet, who, though an admirer of Tati, initially resisted the idea of adapting anybody's else material. But the script struck a deep chord within him and, seeing "The Illusionist," you can see exactly why.
---