Somewhere: movie review
Sofia Coppola's minutely observed 'Somewhere' examines the emptiness of Hollywood celebrity.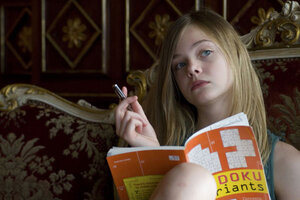 Focus Features
Sofia Coppola's "Somewhere" opens with a long shot of a black Ferrari circling an empty desert speedway for what seems like an eternity. After about the fifth lap, I understood what Coppola was going for: real-time anomie. There's lots of that in this film.
The driver of the car turns out to be Johnny Marco (Stephen Dorff), a mid-level movie star, recently divorced, who is shacking up at the Chateau Marmont, a funky Hollywood hotel known for sequestering fringey celebrities.
Having broken his arm, Johnny is nursing his impediment with a parade of willing women with whom he mostly dozes off in mid-act, even when being entertained by twin pole dancers. Their routine goes on for about as long as that Ferrari roundabout and is just about as sexy.
Related: Ten best movies of 2010
When not nodding off, Johnny heads out for the occasional party or publicity junket or prosthetics fitting session for his next film. When his 11-year-old daughter, Cleo (an excellent Elle Fanning), shows up for a visit that turns into an extended stay, Johnny gradually bonds, as best as he can, with her. She seems a lot wiser than he. At least she knows how to cook.
---