Country Strong: movie review
In 'Country Strong,' Gwyneth Paltrow charts the fall and shaky rise of a Faith Hill-style singer.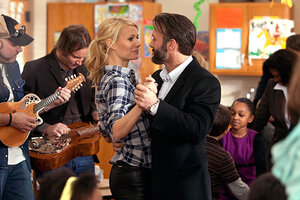 Scott Garfield/Sony-Screen Gems/AP
What would country-music movies be without heartbreak? From "Coal Miner's Daughter" and "Sweet Dreams" right up through "Crazy Heart," the genre is awash in acid tears.
"Country Strong" is the latest and, in many ways, the least impressive entrant in the achy-breaky sweepstakes. It stars Gwyneth Paltrow as superstar Kelly Canter, a Faith Hill-style singer whom we first encounter drying out in rehab. Paltrow doesn't make many movies these days, so the question is: Why this one?
The answer is obvious. This is an Oscar-size role she can really sink her teeth into. The bigness of the role, however, doesn't match its middling execution. Paltrow isn't bad – she even does her own singing – but writer-director Shana Feste hasn't done much to rehabilitate a very tired conception. (As an example of how to do it right, check out "Nashville," with Ronee Blakley's classic performance as a rehabbed wreck of a star, or "Payday," with Rip Torn.)
---
Follow Stories Like This
Get the Monitor stories you care about delivered to your inbox.