Biutiful: movie review
'Biutiful' could almost stand as a parody of the pessimism of director Alejandro González Iñárritu.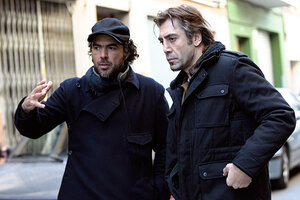 Menage Atroz and Mod Producciones/AP
To say that "Biutiful" is bleak is putting it mildly. True, its co-writer and director, Alejandro González Iñárritu, is not exactly noted for putting on a happy face. "Amores Perros," "21 Grams" and "Babel" were all heavy-going odysseys with little in the way of redemption at the end of the tunnel. Still, "Biutiful," starring Javier Bardem as a kindly crook, could almost stand as a parody, albeit unintentional, of Iñárritu's mind-set. No matter how bad things can get, they can always get worse.
It's not the bleakness that I'm arguing against here. It's the ease, the glibness, with which Iñárritu accepts that bleakness. Just because his view of life is dark doesn't mean it isn't shallow. (This is his first film without the collaboration of his longtime long-faced screenwriter Guillermo Arriaga, though you wouldn't know it.)
Bardem's Uxbal is involved in many sordid schemes in the back alleys and factories and sweatshops of Barcelona. Senegalese drug dealers and poor Chinese laborers are his stock in trade but, unlike his scurvy cohorts, including his out-of-control brother Tito (Eduard Fernández) and sadistic partner Hai (Taisheng Cheng), Uxbal genuinely cares about the people he's exploiting.
---