Sundance Film Festival: Oprah, Belafonte, and some indie gems in drama and documentary
Oprah launched her documentary film club and Belafonte carries on his social activism full tilt at the Sundance Film Festival, which was abuzz with talk about the digital future of film as much as the indie films themselves.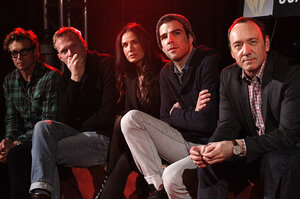 Mario Anzuoni/Reuters
The Sundance Film Festival, which wraps up its 11-day run this weekend, screens 115 feature-length films. By the end of my run I felt as if I'd seen all 115. (Actually, I saw 20.)
Even for a bleary-eyed veteran of the festival circuit such as myself, the Sundance experience – which is primarily centered in Park City, Utah – is daunting, and not just because of the bales of snow with which we are regularly deluged. Actually, this year's edition has been mercifully squall-free. I can recall a few years back when the festival resembled the Donner Party with movies.
The true challenge here is sorting out what to see and then attempting to make sense of it all. Trying to understand Sundance is the same thing as trying to figure out the state of the independent movie scene.
Related: Ten best movies of 2010
That scene over the past few recessionary years has been going through a model change. No longer can filmmakers and distributors in the indie realm rely on revenues from the sinking DVD market. Presales to foreign markets are down, too, cash from hedge-fund sources and high rollers has dried up, and the number of journalistic outlets willing and able to provide features on the indie scene has dwindled.
Since indie movies rely heavily on good press, the latter is a crucial loss. It's a brave new world. Much of the talk at Sundance this year, where, despite everything, sales and attendance were up, was as much about the ways in which movies will be "consumed" in the future – with all the various digital platforms on the horizon – as on the films themselves.
---