Cedar Rapids: movie review
The comedy 'Cedar Rapids' takes an inordinate number of wrong turns, but it also has an inordinate number of good laughs mixed in with the not-so-good ones.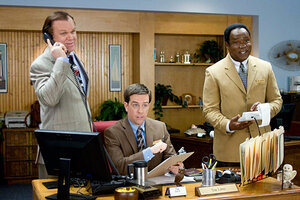 Zade Rosenthal/Fox Searchlight/AP
Tim Lippe (Ed Helms, from "The Hangover") is an insurance agent who, in his 34 years, has never once ventured beyond the borders of his hometown of Brown Valley, Wis. He's more than a rube – he's practically a babe in the woods. He finally gets the opportunity to see the world, or at least a wee patch of it, when he attends an annual weekend insurance convention in Cedar Rapids, Iowa. He's never flown on a plane before, never stayed at a hotel, and doesn't even know what a credit-card imprint is.
This is the shaky comic premise of "Cedar Rapids," directed by Miguel Arteta and written by Phil Johnston, and, to the extent that you can buy into it, it's a funny one. But Tim, who is unmarried and apparently without much in the way of family or friends, is more of a comic convenience than a character. Apart from a dalliance with the woman, played by Sigourney Weaver, who used to be his seventh-grade teacher, Tim seems altogether sexless and without ambition. If the filmmakers had bothered to figure out why a reasonably normal 34-year-old man never entertained the idea of stepping over his county line, "Cedar Rapids" might have added up to more than a one-joke frolic.
---