Hall Pass: movie review
In 'Hall Pass,' two husbands plunge into chasing women after being granted a week off from their marriages by their wives in this crass comedy.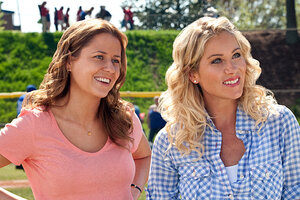 Peter Iovino/Warner Bros./AP
Peter and Bobby Farrelly are gross-out artists in transition. Like others of their ilk, such as Kevin Smith and Judd Apatow, they are moving warily into what passes for mellowing. What this means, in practical terms, is that in their new movie, "Hall Pass," the Farrellys limit the extreme scatology sequences to a mere two.
Owen Wilson's Rick and Jason Sudeikis's Fred are best friends whose roving eyes exasperate their wives. Rick's Maggie (Jenna Fischer) and Fred's Grace (Christina Applegate) devise a solution: Give the boys a "hall pass" – a one-time-only week off from their marriages during which, in order to get the wanderlust out of their system once and for all, they have permission to do whatever they want with whomever they want. The wives, in the meantime, go on vacation, where they encounter a college baseball team replete with studs.
Wilson has a gawky affability here that helps redeem much that might otherwise seem tasteless (as opposed to tasteless-but-funny). His encounters with a willing Australian babe (Nicky Whelan) have a silly, klutzy sweetness. As an example of just how far the Farrellys have mellowed, consider also the scene in which Rick refuses to buy beer for his kids' underage babysitter. This shocking turn of events would have been unthinkable back in the days of "Dumb and Dumber" and "There's Something About Mary."
But then again, it's always been true that the Farrellys, as well as Apatow, have always been closet family-values guys. Their movies, despite the goony gross-outs, inevitably stand up for the tried and true. If you think the roving hubbies in "Hall Pass" are going to bust up their marriages, you just haven't been paying attention. Grade: B- (Rated R for crude and sexual humor throughout, language, some graphic nudity, and drug use.)
---
Follow Stories Like This
Get the Monitor stories you care about delivered to your inbox.