James Franco and Anne Hathaway: Why are they hosting the Oscars?
James Franco and Anne Hathaway are the youngest to have hosted the Oscars. The choice has people guessing: Why were Franco and Hathaway chosen to host the 83rd annual Academy Awards? And why two hosts?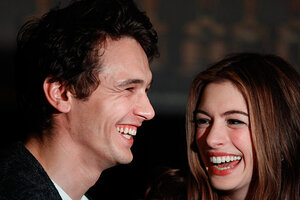 Chris Carlson/AP
James Franco and Anne Hathaway? Hmm. Young, attractive, and talented, yes. But trying to figure out why they were chosen to host the 83rd Annual Academy Awards is like reading tea leaves. The inscrutable Academy strikes again.
When asked on ABC's Good Morning America why they thought they were chosen, Hathaway responded:
"Young and hip seemed to be the buzzwords that keep getting thrown around," she said. "I'm trying to figure out which one I am. I think you're hip and I'm young," she said, laughing to Franco.
Franco has been nominated for Best Actor for his role in "127 Hours."
It won't be the first time that more than one person has hosted the venerable movie awards show. Why, just last year, we had Steve Martin and Alec Baldwin. But you have to go all the way back to 1987 for a previous instance, when Chevy Chase, Goldie Hawn, and Paul Hogan helmed the broadcast, which is second only to the Superbowl in TV audience size.
---
Follow Stories Like This
Get the Monitor stories you care about delivered to your inbox.