Happythankyoumoreplease: movie review
'Happythankyoumoreplease' hangs on three stories, each of them a little tedious.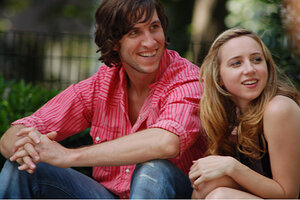 Anchor Bay Films
Josh Radnor, the TV star from "How I Met Your Mother," has a hang-loose affability in the annoyingly titled "Happythankyoumoreplease," which henceforth I will refer to as "HTYMP." Radnor also wrote and directed the film, which won an audience award at the 2010 Sundance film festival. Audience winners at that festival tend to be quirky-goofy exercises in navel-gazing. Lo and behold, "HTYMP" does not disappoint.
Radnor's Sam is a would-be novelist who lives a scroungy bachelor existence in New York. His avoidance of "commitment" – he's OK with one-night stands – is put to the test when he is smitten by a local bartender and aspiring cabaret singer nicknamed Mississippi (Kate Mara) who, as fate would have it, hails from Mississippi.
---