The Adjustment Bureau: movie review
In the romantic sci-fi thriller 'The Adjustment Bureau,' Matt Damon and Emily Blunt play lovers not destined to be together.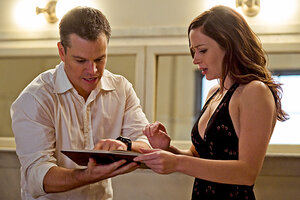 Andrew Schwartz/Universal Pictures/AP
When I heard that the fantasy suspense thriller "The Adjustment Bur­eau" was based on a Philip K. Dick story and starred Matt Damon, I immediately prepared myself for "The Bourne Identity Meets Inception." The good news is that the film is not as humorless as the former or as incomprehensible as the latter. It's actually – of all things – endearingly romantic.
Damon's David Norris is a populist bachelor New York congressman on the verge of winning a Senate seat when a last-minute tabloid revelation about a long-ago fraternity prank ruins everything. Rehearsing his concession speech alone in the empty men's room of his campaign headquarters, he discovers emerging from a stall the gorgeous Elise (Emily Blunt). Their patter is awkward and then, mutually smitten, they kiss.
Any thoughts we might have about Elise being an operative of the opposition – why was she in the bathroom? – are instantly put to rest. These two are meant for each other. But if that's true, why does she suddenly race out? And why are men in hats and business suits, looking like refugees from "Mad Men," skulking about?
First-time director George Nolfi, who also wrote the screenplay, has writing credits on "Ocean's Twelve" and "The Bourne Ultimatum," both of which starred Damon, and this may explain why the actor gives such a spirited performance here. Actor and director obviously share a rapport.
---