Certified Copy: movie review
Juliette Binoche stars in 'Certified Copy,' a provocative romantic drama that fudges the line between reality and fantasy.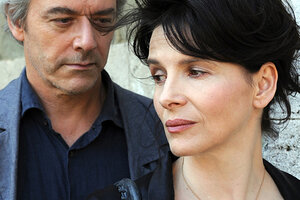 IFC Films
The Iranian-writer director Abbas Kiarostami has always been enthralled by the shifting planes of fantasy and reality. His latest film, "Certified Copy," is his fullest expression of that entrancement.
I am not often a big fan of modern cinematic fantasy-reality games, and "Certified Copy," which stars Juliette Binoche and opera-singer-turned-actor William Shimell, does not always escape the pitfalls of the genre (and it is a genre, one which stretches, to take an arbitrary measure, from "Last Year at Marienbad" to "Inception"). Many times during this film I would have been happy watching a straightforward rendering of a love story instead of the filigreed conceit that Kiarostami appears to set before us.
But despite the film's coy artiness and a lassitude that sometimes passes for soulfulness, "Certified Copy" is strangely haunting. Kiarostami is like a magician who shows you how he does it and still leaves you mesmerized. There's an effrontery to his method. He wants us to know that beyond the obvious magicmaking of movies is a deeper, more intangible, magic – the sensual inscrutability of imagery itself. The film is not so much about reality and fantasy but about deepening levels of reality.
---