Paul: movie review
In this comedy adventure, two sci-fi geeks go on a road trip in Nevada where they accidentally meet a foul-mouthed alien named Paul.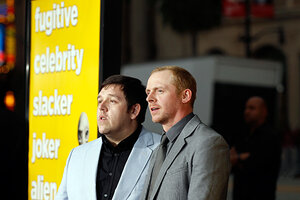 Mario Anzuoni/Reuters
The amusing conceit behind "Paul" is that an E.T. can be every bit as foul-mouthed and goony as any slacker. This is not quite enough of a conceit to sustain a full-length movie – "Paul" would have made a terrific short film – but there are incidental pleasures all along the way.
Nick Frost and Simon Pegg, who also double as screenwriters, play geeky British tourists who rent an RV and scout out UFO landmarks in Nevada. Soon they are joined by an escapee from a top-secret military base, Paul, a scrawny alien who, after 60 years on Earth, just wants to get back to his own planet. Hot on their trail are federal agents (Bill Hader, Jason Bateman, and Joe Lo Truglio) of varying degrees of cluelessness.
I'm not sure that having a rabid ex-evangelical firebrand (Kristin Wiig) join the fray was such a masterstroke – it brings the movie into evolution/creationism terrain that is too scabrous for its own good. But Frost and Pegg, who had a breakout hit with "Shaun of the Dead," are a wiggy team, and director Gregg Mottola ("Superbad," "Adventureland") has a genial touch. The movie, despite what you may have gathered from the goofy trailer, is more sweet than silly. Grade: B (Rated R for language including sexual references, and some drug use.)
---
Follow Stories Like This
Get the Monitor stories you care about delivered to your inbox.