Win Win: movie review
Paul Giamatti's struggling lawyer is nuanced and fresh in 'Win Win,' a bittersweet drama with heart.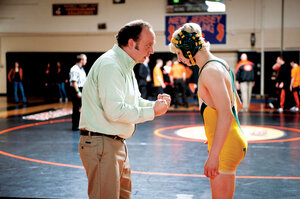 Fox Searchlight
You would think that with all the schlubby malcontents Paul Giamatti has played over the years, his act would grow old. But here's the thing: It's not an act, or to be more precise, it's not shtick. Giamatti's gallery of grumps, from Harvey Pekar in "American Splendor" to the melancholy Pinot sipper in "Sideways" to Barney in "Barney's Version," are all grumpy in their own way. And let's not forget that Founding Father sourpuss, John Adams.
In writer-director Tom McCarthy's "Win Win," Giamatti is playing yet another variation on a theme, and yet the performance is absolutely fresh. His Mike Flaherty is a New Jersey lawyer whose practice, unbeknown to his otherwise wily wife (Amy Ryan), is on the skids. As the court-appointed attorney to Leo Poplar, a widower with early-stage dementia wishing to remain at home, Mike discovers that, if he is appointed Leo's caregiver, he is entitled to a $1,500 monthly stipend. (He claims Leo's surviving relatives can't be reached.) Mike can't resist putting himself up for the job, but, instead of returning Leo to his home, he relocates him to a nursing facility.
---