Miral: movie review
A revealing but slow-paced saga, 'Miral' is a multigenerational tale that presents three views of the Israeli-Palestinian conflict.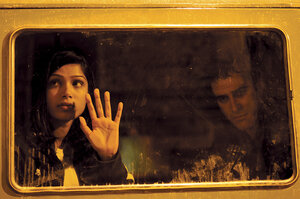 The Weinstein Company
"Miral" is by no means the first film from a Palestinian point of view to show up in the United States, but it's likely to be the highest profile, both because of the critical reputation of director Julian Schnabel ("Before Night Falls," "The Diving Bell and the Butterfly") and because it's coming from The Weinstein Company, which has experience exploiting controversy.
"Miral" is based on an autobiographical novel by Rula Jebreal. If you want to worry about bias in the presentation, don't focus on the filmmaker's political opinions as much as the fact that Jebreal and Schnabel now live together. (Alternate title: "How My Girlfriend Got to Be So Complex and Deep and All-Around Fabulous.")
Chronological leaps and an episodic structure make things drag, particularly in the first half. We're more than a third of the way through the film before the title character herself (played briefly by Yolanda El Karam before Freida Pinto of "Slumdog Millionaire" takes over) shows up. The extended prologue is divided into three chapters, focusing on each of three women who molded the protagonist. First is Hind Husseini (Hiam Abbass), who creates a school for Palestinian children displaced during the battles to create Israel. Second is Nadia (Yasmine al Massri), Miral's mother; and third is Fatima (Ruba Blal), a terrorist. Fatima's nice-guy brother Jamal (Alexander Siddig) ends up raising Miral after Nadia's death.
---