Potiche: movie review
Catherine Deneuve charms in the French comedy 'Potiche,' a tale of a trophy wife who becomes a gifted leader.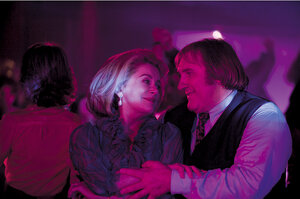 Music Box Films
The word "potiche," we are told, describes an attractive, not particularly functional, knickknack – and, by extension, is vernacular for "trophy wife." The potiche in François Ozon's new comedy of the same name is Suzanne Pujol (Catherine Deneuve, certainly a trophy of the highest order). Her husband, Robert (Fabrice Luchini), runs the umbrella company Suzanne inherited from her father. Whereas Dad was a kindly, paternalistic boss (I'd like to believe such creatures once roamed the earth, but I've never met one myself), Robert is all business. He sees the workers not as family but as enemies.
Ozon initially presents Suzanne as a fairy-tale character, composing pastoral ditties and talking cheerily to birds and squirrels, like an early Disney heroine. She doesn't seem surprised or particularly offended when Robert contemptuously – though in his eyes, lovingly – dismisses her as a potiche.
But everything turns around when Robert collapses during a period of labor troubles. His doctors insist he take a restful vacation, and Suzanne is pressed into running the business. When she turns out to be a more effective CEO than Robert, everyone – including Suzanne – is delighted ... except, of course, Robert, who returns and struggles to regain control.
For nearly a decade, Ozon's films – at least those released in the United States – have been deadly serious affairs, like "Hideaway" and "Time to Leave." Here he returns to the comic mode of "Sitcom" (1998), which first brought him to international attention. His script is adapted from a 1980 stage hit by Pierre Barillet and Jean-Pierre Grédy, who also wrote the plays later refashioned by Hollywood into "40 Carats" and "Cactus Flower."
---
Follow Stories Like This
Get the Monitor stories you care about delivered to your inbox.