Source Code: movie review
Sci-fi thriller 'Source Code', starring Jake Gyllenhaal, bends time to uncover a terrorist plot. Source Code is a sort of metaphysical Groundhog Day.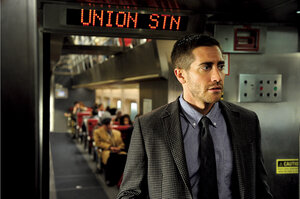 Summit Entertainment
In "Source Code," the new thriller starring Jake Gyllenhaal, "Groundhog Day" goes metaphysical. Some people, I know, will argue that "Groundhog Day" was already metaphysical. Perhaps, but compared with "Source Code," it's "Caddyshack."
We first see Gyllenhaal waking up from a nap on a commuter train bound for Chicago. Although his character knows himself as Army Capt. Colter Stevens, he is addressed as "Sean" by a young woman, Christina (Michelle Mon­aghan), who appears to be his girlfriend. Confused, he stands before the men's room mirror and sees another man's reflection. Then the train explodes, killing everybody on board.
Except, apparently, Col­ter, whom we next see inside a cement-block privation cell. A video screen connects him to the big, interrogatory faces of Col­leen Goodwin (Vera Far­miga) and Dr. Rutledge (Jeffrey Wright), military-scientific analysts who are utilizing Colter – who is either alive, dead, or "dead" – for a top-secret Army experiment in which he is made to repeatedly relive the last eight minutes in the life of the train commuter in order to uncover the bomber who has also threatened to detonate downtown Chicago.
---