Russell Brand's 'Arthur': movie review
In this remake of 'Arthur,' Russell Brand plays a spoiled man-child billionaire in pursuit of amusement.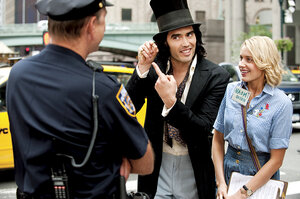 Sony Pictures
Is there a less opportune time to remake "Arthur," the 1981 Dudley Moore comedy about a billionaire alcoholic who parties his way through life? In case anybody connected with this film hadn't noticed, we're up to our nostrils in a recession. Also, drunk jokes aren't exactly the laff riots they used to be in the old Dean Martin days (if they ever were). For timing this off you'd have to go back to "Confessions of a Shopaholic," another tone-deaf – or zeitgeist-blind – comedy.
Russell Brand has been recruited for this "reinvention," and his presence in the film confirms my belief that a little of him goes a long, long way.
As Arthur Bach, sole heir to his family's megabillion foundation, Brand spends most of the movie slurring his words and sashaying off kilter. We're supposed to find this spoiled man-child adorable even though he's never without his flask, drives drunk, and stocks his suite at New York's Pierre Hotel with a passing parade of leggy gold diggers.
To keep him in line and uphold the foundation's image, a marriage is arranged between Arthur and Susan Johnson (Jennifer Garner), a business executive whose corporate ambitions and no-nonsense personality are supposed to guarantee the foundation's, and Arthur's, future. If he refuses to wed her, he loses his billions.
---