Thor: movie review
Marvel Comics starts another franchise as the superhero Thor gets tongue-in-cheek treatment.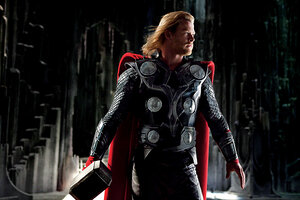 Paramount Pictures
I held out some hope for "Thor" because it was directed by Kenneth Branagh and costars Anthony Hopkins and Natalie Portman. It also kicks off a new franchise, and debut franchise flicks are usually a lot better than their sequels.
Not being an aficionado of the Marvel Comics hero Thor, not to mention Norse mythology, I approached this new lollapalooza with an open mind that was quickly addled by loads of back story and front story and an ear-splitting avalanche of special effects – in IMAX 3-D no less, just in case bodies and hammers hurtling straight at you in 2-D seems hopelessly passé.
"Thor" begins in the New Mexico desert – ground zero for all things extraterrestrially spooky. Astrophysicist Jane Foster (Portman), her mentor Dr. Erik Sevig (Stellan Skarsgård), and sidekick Darcy (Kat Dennings) are investigating an atmospheric disturbance when a big, bearded stranger – that would be Thor, played by hunky Australian soap star Chris Hemsworth – knocks into their RV.
---