Hey, Boo: Harper Lee & 'To Kill a Mockingbird': movie review
'To Kill a Mockingbird' author Harper Lee remains elusive in this new documentary that delves into her silence.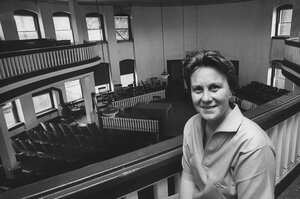 First Run Features/File
Whatever became of Harper Lee? This is the enigma at the heart of Mary McDonagh Murphy's documentary "Hey, Boo: Harper Lee & 'To Kill a Mockingbird.' " The author of one of the most beloved and honored American novels has not granted a full-fledged interview since 1964, three years after the book's publication. She also never wrote another novel.
Unlike the late J.D. Salinger, Lee is not a recluse – she's appeared in public over the years to receive honorary awards – but a clue to her temperament can perhaps be gleaned from that last interview, for a New York radio station, where she described her reaction to the book's success as "sheer numbness, like being hit over the head and knocked cold."
A deeper clue comes from an anecdote from Oprah Winfrey, one of the film's many starry-eyed interviewees, who describes a lunch with Lee where she tried to persuade the author to appear on her talk show. Lee responded that she wasn't Scout, the novel's feisty heroine, but rather the fearful hermit Boo Radley.
---