Rejoice and Shout: movie review
The documentary 'Rejoice and shout' celebrates giants of gospel music and its God-centered heart.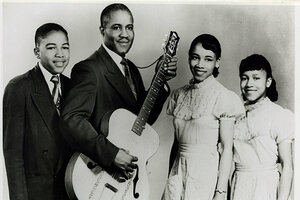 Magnolia Pictures
The wonderful new gospel music documentary "Rejoice and Shout" opens not with an exploration of sound but of faith. Smokey Robinson says he prays to God all day long. Speaking of the people who faint or lose themselves in the religion, he says: "When I was a kid, that was one of the reasons I really didn't go to church with my mom, because, at that age, I didn't understand the impact of the Holy Spirit. That frightened me, until I had grown and the Holy Spirit impacted me."
We hear from Mavis Staples: "I believe if I ask the Lord for something, it is coming. It might not be today; it might be tomorrow. But when it comes, it's gonna be right on time."
And Pastor Andraé Crouch: "If we really heard the voice of God, we'd be reduced to juice. The vibrations of his voice would reduce us to liquid. So He has to use other people to speak his word."
Because I was expecting the usual historical approach to gospel music, these hosannas at first seemed off-putting. But really, they are essential. As the producer Joe Lauro has explained: "The No. 1 thing you need to know before anything else is you really have to see what these people feel about God and how they express it in the music." They don't call it gospel music for nothing.
This is not to say that "Rejoice and Shout" skimps on the history – quite the opposite. There have been other terrific documentaries about gospel – like the concert film "Gospel" and George Nierenberg's "Say Amen, Somebody," which focused on "Professor" Thomas A. Dorsey, who wrote the lyrics for "Take My Hand, Precious Lord," and "Mother" Willie Mae Ford Smith – but this is the first gospel film to draw on an incalculably rich archive of material going back more than 100 years.
---