The Trip: movie review
Comic actors Steve Coogan and Rob Brydon are a hilarious duo in this dry British comedy, 'The Trip.'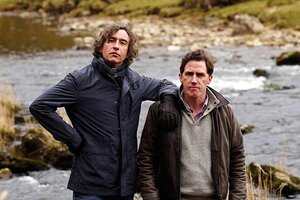 Phil Fisk/IFC Films/AP
Comic actors Steve Coogan and Rob Brydon have appeared together before, playing loose versions of themselves in Michael Winterbottom's "Tristram Shandy: A Cock and Bull Story," and they recap the gambit in "The Trip," an even funnier Winterbottom escapade.
Steve (Coogan) is a disgruntled actor who has been asked to review upscale restaurants for The Observer during an improvised drive through northern England's Lake District and Yorkshire Dales. When his girlfriend cancels at the last minute, he reluctantly takes along his friend Rob (Brydon), who is happily married though not so happily employed.
Ever the actor – or, to be more precise, mimic – Rob regales Steve on the road with some of the funniest impersonations I've ever heard. Rob doesn't just do Michael Caine, for example – he does Caine at differering stages in his career, from "Alfie" to "The Dark Knight." He also does a mean Al Pacino, Sean Connery, Anthony Hopkins, Liam Neeson, and Woody Allen. And Steve nearly matches him shot for shot.
What's especially funny is that many of these jags occur in tony restaurants where scrumptious, high-end dishes, which they barely notice, are lovingly placed before them. They're not boors, exactly, just oblivious. The odyssey goes on a bit too long, and I suppose a taste for extra dry British comedy is a requirement, but this "Trip" is well worth one. Grade: B+ (Unrated.)
---
Follow Stories Like This
Get the Monitor stories you care about delivered to your inbox.