City of Life and Death: movie review
In 'City of Life and Death,' a new Chinese take on the horrific massacre of Nanjing attempts to humanize the invaders.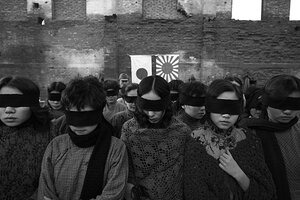 Newscom/File
Lu Chuan's "City of Life and Death" is about Japan's 1937 invasion of Nanjing, China, in which over the course of several weeks hundreds of thousands of soldiers and civilians were massacred and countless women were raped.
Based in part on testimony from survivors, it's the first full-scale historical reenactment of that event to be filmed in China. There have been other movies about the massacre, most recently "John Rabe," but this one, shot in color film desaturated to black and white and costing about $12 million – very high for a Chinese film – is the most powerful and problematic.
Lu, who also wrote the screenplay, has spoken in interviews about how important it was for him, as a Chinese brought up to believe in the bestiality of the Japanese soldiers, to humanize the invaders. This is, I suppose, a noble intention, but when dealing with atrocities of such scope, almost impossible to achieve.
Practically the sole focus of his professed humanism, amid a welter of sadism and bloodletting, is the conflicted Japanese officer Kadokawa (Hideo Nakaizumi), whose love for an imported Japanese "comfort woman" (Yuko Miyamoto) is meant to reveal his tender heart. This kind of storytelling isn't on a much higher level than the Hollywood standard. Neither is the depiction of Ida (Ryu Kohata), Kadokawa's platoon commander, whose villainy is without shading.
---