Ryan Reynolds as superhero in 'Green Lantern': movie review
In 'Green Lantern,' Ryan Reynolds gives a light touch to the latest superhero to jump out of DC Comics.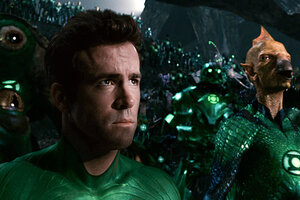 Warner Bros. Pictures/Reuters
Just in case you thought there weren't enough comic-book superheroes crowding our screens, here's "Green Lantern," starring Ryan Reynolds in green jammies and matching mask, to set you straight. The way things are going, the only movies getting financing will be franchise installments. Or are we already there?
Franchise-wise, "Green Lantern," which reportedly cost $300 million to make and market, is not a done deal yet, although Warner Brothers, which owns the rights to the venerable DC Comics character, boldly offers up the mandatory sequel teaser in the credits.
Since quite a bit of "Green Lantern" is slowed down by exposition, a sequel might actually be an improvement – less time spent setting up situations already known to fanboys of the comic book. On the other hand, it's been my experience watching these films that things inevitably bog down anyway. New villains need back story just like old heroes.
The director is Martin Campbell, who shook up the "James Bond" franchise with "Casino Royale," starring Daniel Craig as a 007 looking a lot more pummeled than shaken or stirred.
---