The Names of Love: movie review
French comedy 'The Names of Love' mixes gravitas and friskiness to the point of becoming annoyingly superficial.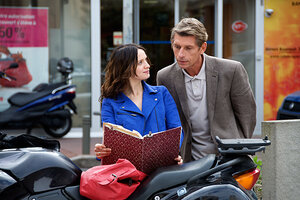 Music Box Films
French comedies, at least the ones that get exported, tend to be talky and a bit risqué. Clothes will be taken off, especially those belonging to nubile young women.
All of this accurately describes "The Names of Love," but then it has to go and spoil things by also trying – not very hard – to be socially conscious. I'm not saying that seriousness and nudity cannot coexist, even in France, but the mix of gravitas and friskiness here is annoyingly superficial. The film's tone is "crowd-pleasing," but which crowd exactly is being pleased?
Baya Benmahmoud (Sara Forestier) is a neohippie who has taken that old mantra "Make love, not war" to a whole new level. A radical liberal, she makes it her mission in life to convert right-wing men by sleeping with them – the theory being that, in the throes of passion, one is most susceptible to suggestion. This is a funny idea, and I'm surprised director Michel Leclerc, who co-wrote the film with Baya Kasmi, didn't fully dramatize an actual bedroom conversion. But it's typical of the film's scattershot approach that these tidbits are sprinkled about without any follow-up. Too much of "The Names of Love" is a joke book posing as a movie.
---