Passione: movie review
A giddy paean to the soundscape of Naples: Actor John Turturro's 'Passione' documentary is anything but straightforward.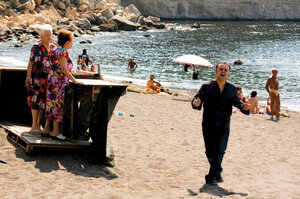 Passione.com
When I heard that the actor John Tur­turro had directed a documentary, "Pas­sione," about the music of Naples, Italy, I braced myself for a straightforward history lesson. Since I know very little about Neapolitan music, this was not an altogether unpleasant expectation, but the dutifulness of the enterprise – its "instructional" value – was a potential turnoff.
I needn't have worried. "Passione" is, in the best sense, educational, but it's also anything but straightforward. What Turturro, who appears in the film as a combination tour guide and impresario, has come up with is closer to a fantasia than a traditional documentary. It's as if that warm Neapolitan sun got to him. He loves this city and he's deliriously happy offering up its soundscape to us.
The closest approximation to "Passione" is probably the Wim Wenders-Ry Cooder documentary "Buena Vista Social Club," which brought to rousing, poignant life the old Havana music scene. In both films, we get the distinct impression that anybody randomly plucked off the streets could instantly offer up an aria that would make the heavens weep. Music is the lifeblood of these cultures, a way of making sense of life, of enduring it and exalting it.
---