The Myth of The American Sleepover: movie review
A tribute to clueless teens: 'The Myth of The American Sleepover' fails to leverage its time-warp feel.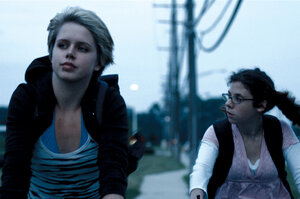 IFC
I remember years ago coming across a deep-think sociology book arguing that teenagehood was actually a fabrication of the post-World War II years. Apparently before then there were just kids and adults.
I thought about this while watching "The Myth of the American Sleepover," yet another tribute to teen cluelessness featuring interconnected stories taking place over a single summer night.
The difference between this movie and its many antecedents – including "Dazed and Confused," a bushel of John Hughes movies, and, most conspicuously, "American Graffiti," which should really get an acknowledgment in the credits – is that "Sleepover," although ostensibly set in Michigan, seems to be taking place in Anywhere, USA. And even though it's presumably contemporary, it looks as though it's taking place decades ago.
This vagueness is, no doubt, intentional, though no less annoying for being so. First-time writer-director David Robert Mitchell is trying to universalize his exceedingly slim story by playing down the specifics.
It doesn't work. I kept asking myself why none of these kids had cellphones. A teenage movie without texting is like a surfboard without a wave. And where are the adults in this film? Hardly a parent puts in an appearance. All of these omissions make "Sleepover" seem like science fiction.
---