Steve Carrell checks out the singles scene in Crazy, Stupid, Love: movie review
Steve Carrell is part of the pro-forma romantic crisscrossings with a dynamite cameo in Crazy, Stupid, Love.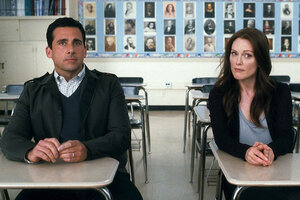 Warner Bros. Pictures/AP
"Crazy, Stupid, Love," starring Steve Carell and Julianne Moore, opens with a marriage breakup scene. It's not played for laughs but we can tell from the jaunty music and sitcom pacing that we are not exactly in Ingmar Bergman country, either. The whole movie takes its cue from this sequence: No matter how dark, keep it light.
Cal (Carell) and Emily (Moore) have been married for 25 years. The ostensible reason for the bust-up is her fling with a dull office worker (Kevin Bacon), but mainly she just seems tired, confused, upset – in other words, according to the rules of this remarriage genre, she is likely to come back to Cal once she figures things out.
Cal, meantime, miserable and clueless, hits the Los Angeles singles scene, frequenting a bar that looks like the set for that old "Playboy After Dark" TV show. He is taken under the wing of the hyperconfident Jacob (Ryan Gosling), whose clincher pickup line – "Let's get out of here" – is a sure winner for him.
The exception, at least for a time, is Hannah (Emma Stone), an auburn-haired law school graduate who is wise to him from the start. When she finally succumbs, she remarks, not altogether in praise, that his shirtless self looks as if he was Photoshopped.
---