Rise of the Planet of the Apes: movie review
The apes are smarter in this latest "Planet of the Apes" movie, but it can't save the limp dialogue.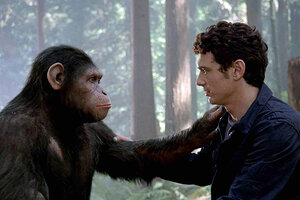 Twentieth Century Fox/AP
The production notes for "Rise of the Planet of the Apes," starring James Franco acting almost as slack as he did at the Oscars, calls it "the first live-action film in the history of movies to star, and be told from the point of view of, a sentient animal – a character with human-like qualities, who can strategize, organize, and ultimately lead a revolution, and with whom audiences will experience a real emotional bond."
Didn't "Zookeeper" already do that? What about "Rocky"?
But back to the matter at hand – or paw. Since the only really good "Planet of the Apes" movie was the 1968 original with Charlton Heston, I've always wondered why filmmakers can't just leave well enough alone. The current foray is rationalized in those same production notes: "The film was impossible to make until the technology, invented for 'Avatar' and now advanced to a new dimension, caught up to the idea behind the movie."
In other words, having a guy traipse around in a phony-looking monkey suit just doesn't cut it anymore. What the world has been waiting for is Andy Serkis – Gollum in "The Lord of the Rings" trilogy and Kong in "King Kong" – traipsing around via performance capture technology. He plays Caesar, the supersmart chimpanzee whose education apparently does not include a single "Planet of the Apes" movie.
---