The Whistleblower: movie review
An exposé that sometimes overdramatizes, 'The Whistleblower' takes on sex trafficker in postwar Bosnia and official collusion.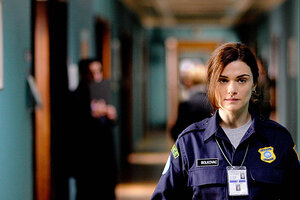 Samuel Goldwyn Films/Andrei Alexandru/AP
In the 1970s, both in America and overseas, socially conscious thrillers were an accepted movie genre. Not so much anymore. "The Whistleblower," starring Rachel Weisz, is an attempted throwback to movies like "Z" and "Three Days of the Condor" – thrillers with smarts and "something to say."
There are two ways to critically approach "The Whistleblower." Does it serve a social good, and is it a good film?
The answer to the first question is, yes. Set in 1999, this film about sex trafficking in postwar Bosnia rekindles a true story too little publicized in America (though not in Europe). I only wish the film itself were sharper. It's an ambitious movie by a first-time director, Larysa Kondracki, and clearly she has taken on more than she can handle. This is certainly not the worst of crimes, but too often she resorts to melodrama when the story cries out for drama.
---