Emma Stone and 'The Help': Does liking this movie make you racist?
Emma Stone, Viola Davis, and Octavia Spencer, star in 'The Help,' a film about black people made by white people. Perhaps inevitably, the Civil Rights-era drama set in Mississippi has been criticized for racism.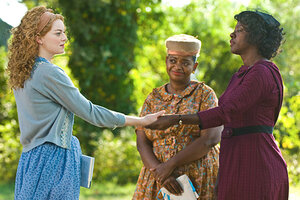 Dale Robinette/Disney/AP/File
'The Help' features galvanizing performances by Viola Davis, Octavia Spencer, and breakout newcomer Emma Stone. It is a film about black people made by white people. Perhaps inevitably, charges of historical inaccuracy and even racism have been leveled at the well-meaning Civil Rights-era drama about privileged white Southerners and the African-American nannies who take care of them.
Made for $25 million, 'The Help' earned back its costs and then some in its opening weekend of Aug. 12 to 14, coming in at number two. The film, propelled by the success the 2009 bestselling novel from which it was adapted, has ignited controversy for everything from the dialect of its black maids to the watered-down dangers they face (the film primarily depicts 'Mean Girls'-style humiliation, not rape and lynching).
"What I don't understand is what 3 million people still find fascinating about the stories of black women in the most subservient positions," Tonya Pendleton wrote for BlackAmericaWeb.com.
In defense of his film, director and screenwriter Tate Turner told TheGrio.com, "Kathryn has said, she would never be equipped or interested in writing a historical, fictional account of the Civil Rights movement. It's just a story." The consensus is that the story is a ripping yarn.
---