One Day: movie review
'One Day' is a rom-com weepie that fails to explain why two would-be lovers should care about each other year after year.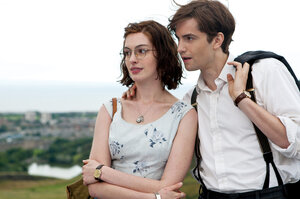 Focus Features
The title of "One Day" is, alas, meant to be taken literally. Based on the eponymous 2009 bestseller by David Nicholls, the film stars Anne Hathaway and Jim Sturgess as star-crossed would-be lovers whose lives are presented to us in 20 annual, same-day installments, beginning on July 15, 1988.
Incidentally, why didn't the marketers open the film on July 15? Just asking.
The problem with this year-by-year structure is that the slow crawl to the end can seem agonizing if the film isn't engaging. And "One Day," despite strenuous attempts by all involved to make us laugh, cry, and laugh-cry, is more likely to induce winces. We've seen it all before – and better.
Emma (Hathaway) and Dexter (Sturgess) are first presented to us as tipsy, newly minted college graduates. Emma, from a working-class English background, has a secret crush on well-born Dex. With her yen not quite consummated, we are then subjected to the ongoing saga of how these two, year by year, dart in and out of each other's lives. When will Dex pull off the blinders and realize Emma is his soul mate? (One hint: If he did it early on, there wouldn't be a movie.)
This is one of those films where the lead actress's attractiveness is intentionally played down in the early scenes so that we can register her subsequent magical transformation into a looker. For Hathaway, circa 1988, this means geeky glasses and frumpy clothes. Also a northern British accent that is somewhat variable depending on the scene. Its authenticity is generally in inverse proportion to her decibel level.
Emma dreams of becoming a writer – we know she's an intellectual because she reads Milan Kundera – but is stuck waitressing in a dead-end Tex-Mex restaurant. Dex, meanwhile, has a burgeoning career as a TV presenter on moronic variety shows. This turns out to be something of a dead end, too. (Are we supposed to think he's a failure because he didn't make it big with even more moronic TV shows?)
---