Helen Mirren in 'The Debt': movie review
Helen Mirren, in 'The Debt,' plays a Mossad agent who helps kidnap a Nazi war criminal and discovers the dangers of deception.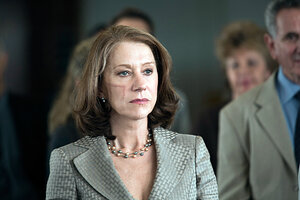 Laurie Sparham/Focus Features/AP
Based on the little-seen 2007 Israeli film "Ha-Hov," "The Debt" is an attempt to fashion a thriller with smarts – a "Marathon Man" for our time. As is often the case with such attempts, the thrills work out better than the smarts.
Directed by John Madden ("Shakespeare in Love"), the film has a two-tiered time structure. Beginning in 1997, the story at first focuses on retired Mossad secret agents Rachel (Helen Mirren) and ex-husband Stephan (Tom Wilkinson), whose daughter has just come out with a book lauding their exploits in a daring operation back in 1965-66 when, along with a third agent, David (Ciarán Hinds), they tracked down in East Berlin the notorious Nazi war criminal Dieter Vogel (Jesper Christensen), the Mengele-like "surgeon of Birkenau."
---
Follow Stories Like This
Get the Monitor stories you care about delivered to your inbox.