Tanner Hall: movie review
Set in an upscale New England boarding school, 'Tanner Hall' is a coming-of-age tale, full of rivalries and illicit romance.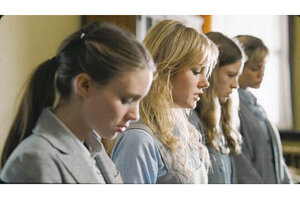 Anchor Bay Films
At the start of "Tanner Hall," studious, responsible Fernanda (Rooney Mara) is entering her senior year at a leafy boarding school in New England. Pretty soon her classmates, especially the troublesome, manipulative Victoria (Georgia King), complicate her life. By entering into a sexually-tinged relationship with a married man (Tom Everett Scott), Fernanda does plenty to complicate her own life as well.
Codirectors Francesca Gregorini and Tatiana von Furstenberg work up some believable, easygoing rapport between the young actresses, but since the story line is hackneyed, it's rapport in a vacuum.
See the film, if you must, for Mara, who will be starring in the upcoming Hollywood remake of "The Girl With the Dragon Tattoo." She's a sharp, vigilant actress whose career bears watching. Grade: C+ (Rated R for sexual content including brief nudity and some drug use.)
---
Follow Stories Like This
Get the Monitor stories you care about delivered to your inbox.