Warrior: movie review
'Warrior' pits two brothers against each other in the ring as a family struggles for reconciliation.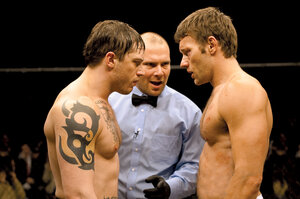 Lionsgate
"Warrior," which is being promoted as another "Rocky," begins promisingly – that is to say, it doesn't seem like another "Rocky."
Tommy Conlon (Tom Hardy), a mumbly, muscle-bound prodigal son, makes a surprise visit home to the father, Paddy (Nick Nolte), he hasn't seen in 14 years. A recovering alcoholic whose brutality drove away his entire family, Paddy wants to make it up to his son. Tommy still seethes with resentment but he wants to train for Sparta, a mixed martial arts event with a $5 million purse. He remembers that back in the day there was no better fighting coach than Paddy.
It turns out there's another son, Brendan (Joel Edgerton), Tommy's older brother, who has been estranged from both Tommy and Paddy. There's a lot of estrangement in "Warrior." If there wasn't, there wouldn't be all that reconciliation later on.
Brendan is a high school physics teacher and former fighter who can't make enough to hold onto his house, so he, too, decides to enter Sparta. You can see where this is going.
---