Bobby Fischer Against the World: movie review
'Bobby Fischer Against the World' explores the paranoia-fueled life of the intellectually brilliant chess champion.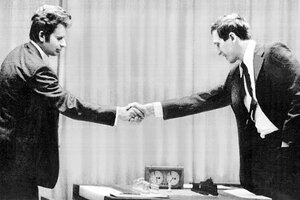 ZUMA Press/Newscom
Liz Garbus's documentary about the great American chess champion Bobby Fischer does its level best to avoid the easy cliché equating madness and genius, except that, in the case of Fischer, the cliché apparently holds up.
Rare footage of the chess-obsessed but relatively "normal" Fischer as a Brooklyn boy and young man is especially touching, since so much of his adult life was spent in paranoia-fueled seclusion.
The film's centerpiece is the 1972 match between Fischer and current champion Russian Boris Spassky for the world title – a match that was engineered with help from the Nixon administration as a weapon in the cold war. Fischer, of course, won the match, but the media glare for this intensely private man overwhelmed his already fragile mental health.
His final years, surprisingly well documented on film, are difficult to watch. His vile anti-Semitic rants (Fischer was half-Jewish), his virulent anti-Americanism in the wake of 9/11, made one of America's great intellectual heroes into an international pariah. But for those who love chess, Fischer will probably always be its premier player, a fact his mental illness cannot expunge. Grade: B+ (Unrated.)
---
Follow Stories Like This
Get the Monitor stories you care about delivered to your inbox.