Gerard Butler stars in 'Machine Gun Preacher': movie review
'Machine Gun Preacher' has a fascinating story but makes its main character, played by Gerard Butler, one-dimensional.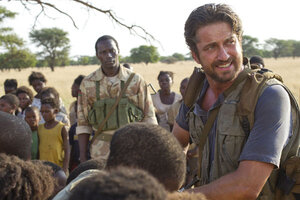 APPARATUS PRODUCTIONS/Album/Newscom
Sam Childers (Gerard Butler) is a Philadelphia ex-con with severe anger-management issues. Just released from prison, he returns home to a familiar pattern of substance abuse and armed robbery. His wife, Lynn (Michelle Monaghan), a former stripper, has in the meantime become a devout Christian during Sam's incarceration. Contemptuous of her do-goodism but sinking fast, he agrees to attend church with her and is forever transformed.
"Machine Gun Preacher," based on Childers's real-life exploits, sets up a fascinating story and then proceeds to make it increasingly less fascinating. Now a successful construction company owner, Childers makes a relief trip to Uganda, where he detours into neighboring Sudan and witnesses the atrocities of the Lord's Resistance Army – a renegade militia that often turned children into rifle-toting soldiers by forcing them to kill their own parents.
Soon he is providing shelter for terrorized Sudanese children. He builds them an orphanage and a schoolhouse. By comparison, his life back in America, where he has also become a lay preacher, loses its luster. He is hooked, obsessively so, on saving the Sudanese children, even if this means becoming a gun-toting hellion himself.
---