Joseph Gordon-Levitt, Seth Rogen in 50/50: movie review
In the comedy '50/50,' Seth Rogen plays a social misfit trying to comfort a friend (Joseph Gordon-Levitt) with a tough medical diagnosis.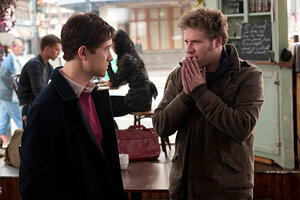 Chris Helcermanas-Benge/Summit Entertainment/AP
Making comedy out of tragedy is not quite as difficult as it sounds, since most good comedy is rooted in seriousness. "50/50," starring Joseph Gordon-Levitt as a cancer patient and Seth Rogen as his best buddy, tries to lighten the heavy and presumably make tragedy more bearable.
At least that's the game plan. The high proportion of sitcom-ish humor to genuine laughs – about 70/30 I'd say – undercuts the film's best intentions. It's a genial movie about terror. But some real feeling does occasionally push through the synthetic situations. Perhaps that's because the screenplay by Will Reiser is semiautobiographical.
Adam Lerner (Gordon-Levitt) works in Seattle for NPR and discovers, to his astonishment, that the pain he has been experiencing in his back is caused by a rare cancer attached to his spinal column. Kyle (Rogen) tries his best to cheer his friend up. Misfit that he is, he also tries to parlay Adam's condition into luring women for sympathy sex. This comes after Adam's girlfriend, Rachael (Bryce Dallas Howard), in a role that is too demonically drawn, proves less than true-blue.
---