To Be Heard: movie review
The documentary 'To be heard' profiles three teens from the Bronx who attend a radical poetry workshop to help them shape their own futures.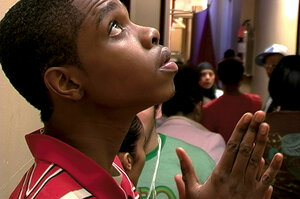 To Be Heard Filmmakers
Public education is such a hot topic that it's easy to lose sight of the students themselves amid all the din about teachers' pay and unions and standardized tests and No Child Left Behind. Hollywood has made its share of movies about the public classroom experience, but most look manufactured. The acclaimed documentary "Waiting for 'Superman' " was skewed by heavy-handed pro-charter-schools advocacy.
There's certainly advocacy in the new documentary "To Be Heard," but it's of a more generalized sort. The movie follows three students from a public high school in the South Bronx, often described as the poorest district in America. Karina, Anthony, and Pearl are participating in a radical poetry workshop called Power Writing that strives to free the students to, in effect, control their own fates. The film opens with the on-screen admonition: "If you don't learn to write your own life story, someone else will write it for you."
The life stories of these three African-American students – who call themselves the "tripod" because they know they need each other to achieve balance – would appear at first to have already been written.
Karina lives with her single mother and her seven siblings, for whom she often acts as a surrogate mom. Although on camera the mother seems friendly enough, she has a history of physically abusing Karina.
---