Margin Call: movie review
'Margin Call' is entertaining with a good cast, but somewhat formulaic.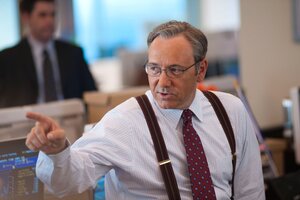 WASHINGTON SQUARE FILMS/Album/Newscom
Writer-director J. C. Chandor's "Margin Call" is about a rapidly unfolding crisis at an investment bank on the eve of the 2008 economic collapse. I'm not sure we need yet another movie about nefarious Wall Street shenanigans – especially not when the "Occupy Wall Street" movements have stolen the spotlight.
On the other hand, the genre has not yet yielded anything wonderful: "Wall Street: Money Never Sleeps" and The Company Men" weren't exactly masterpieces.
I was hoping "Margin Call" would at least be best of breed, and I suppose, given what else is out there, it is (unless you count Charles Ferguson's Oscar-winning documentary "Inside Job"). But it's a rather formulaic piece of work. A lot of good actors, including Kevin Spacey, Stanley Tucci, Zachary Quinto, Jeremy Irons, Paul Bettany, and Penn Badgley, strut and fret their hour upon the stage while delivering acrimonious arias. It's all fairly entertaining but also confusing for anybody who doesn't get the Wall Street lingo. Irons, as the company's chief executive officer, seems to sympathize with us: He keeps asking his minions to explain the impending problems in plain English. This is quite helpful, especially if you've never heard of a "historical volatility index limit" and wouldn't know what it was even if you had. Grade: B (Rated R for language.)
---
Follow Stories Like This
Get the Monitor stories you care about delivered to your inbox.