Like Crazy: movie review
'Like Crazy' rides on the thrill and the devastation of first love.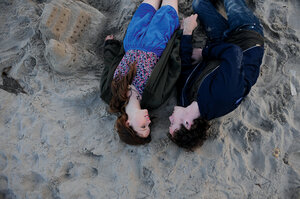 Paramount Pictures
"Like Crazy," the Grand Jury prize winner at the 2011 Sundance Film Festival, is a semi-improvised, microbudget marvel with a range of feeling that shames most big-budget star-driven movies. It's so piercingly poignant that at times I worried it might devolve into wet-hanky sentimentality. I needn't have worried. It's the rare example of a film that manages to be both lyrical and tough-minded.
Jacob (Anton Yelchin) and Anna (Felicity Jones) are L.A. college seniors – she's a poetry-writing exchange student from London; he hopes to design furniture. She places a long mash note on his car's windshield one afternoon – it closes with the words "please don't think I'm a nut case" – and he takes a chance and calls her. Their ensuing romance unfolds on screen as a series of grace notes and ellipses. Drake Doremus, the director and co-writer (with Ben York Jones), is, like his lead actors, still in his 20s. His film is youthful in the best of ways. He and his cast are able to convey the sexy, giddy, terrifying landscape of first love because no doubt for them these experiences still have a freshness.
The characters seem to be discovering their emotions right in front of our eyes, and this is not simply because the scenes came out of improvisations. It's because the actors understand the essential seriousness of what they are attempting, which is nothing less than a delicate, layer-by-layer rendering of mirth and passion and heartbreak. Yelchin and Jones want to do justice to these emotions because so much is at stake in getting them right.
---