Pianomania: movie review
In the documentary 'Pianomania,' a piano tuner's trials and triumphs with the world's top pianists brings that rarefied world of perfectionism into view.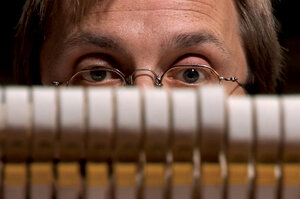 First Run Features
"Pianomania" is the thoroughly apt title for a thoroughly enjoyable documentary about Stefan Knüpfer, the chief technician and master tuner for Steinway & Sons, maker of arguably the world's finest pianos. Knüpfer, who is responsible for the tone of the grand pianos in the Vienna Concert House, ministers to the needs of some of the most famous and demanding piano virtuosos, including Lang Lang, Alfred Brendel, and Pierre-Laurent Aimard.
The pianists' obsession with the minutest hemi-demisemiquavers of sound would be enough to propel most people into a padded room, but Knüpfer is equally obsessive about satisfying these artists. (He's the piano equivalent of a horse whisperer.) One of his proudest moments, he tells us, is when he got everything right and the megapicky Aimard said, "I've always dreamed of this sound."
Knüpfer began his apprenticeship with Steinway at 15, after deciding he didn't have the talent to be a great pianist himself. He seems very happy with this decision, not least because of the grueling lifestyle of the concert artist. "Many of the great pianists," he says in a grand understatement, "are pretty neurotic." (Although the film doesn't mention it, some of them, like Sviatoslav Richter, would actually transport their own grand pianos to concerts worldwide.)
Aimard is a prime example of the neurotic artist. The filmmakers, Lilian Franck and Robert Cibis, structure the film as a yearlong run-up to his recording of Bach's "The Art of the Fugue," and at every step along the way Aimard is hyperattuned to the slightest tonal discrepancies. In the film's funniest moment, Knüpfer tells us how Aimard invariably compliments him on a tonal adjustment only to immediately backtrack by adding, "Question!"
Sure enough, we are then shown a scene in which Knüpfer manipulates the hammerheads and tightens the strings and then, voilà, Aimard, after the obligatory compliment, follows up with "Question!"
---